Meet the Team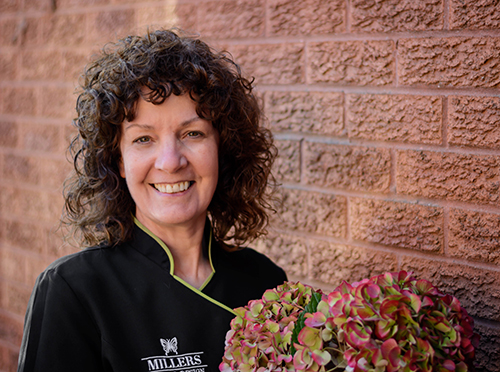 Barbara K. Jackson
Hi, my name is Barbara Jackson (Barbara Miller before marriage). I am the proprietor, manager and general dogs body at the shop! I started work as a florist 40 years ago. Floristry was a career I always wanted to take up from an early age and got my first opportunity upon leaving school at Harris and Sons Florist in Middleton as a trainee.
After just two years at the tender age of eighteen, I opened up my first shop in partnership with my mum in the centre of Shaw, Oldham. I progressed through the training programmes attaining my City & Guilds levels 1, 2 and 3 and eventually qualifying with the highest qualification in floristry - 'The National Diploma in Floristry'.
During my career I have done a spell of teaching floristry at Leeds University and Manchester College. I was also an NVQ assessor at the Oldham College.
During my time in industry I can honestly say there is nothing I have not come across and I try to pass on these experiences to my staff.
In my spare time I like to go skiing in the winter with my family and friends.
---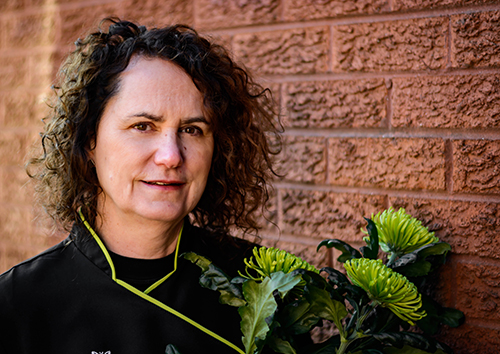 Judith Ireland
My name is Judith Ireland. Having worked as a dental nurse for twenty years I left to raise my two daughters. I have always loved flower arranging and on returning to work I decided on a change in career. After enrolling on a floristry course for personal interest, I enjoyed it so much that I wanted to learn more and eventually qualified with my City & Guilds NVQ level 1, 2 and my National Certificate Level 3 in floristry. I joined Miller's Florist on a college placement in 2000 and have been here ever since. I enjoy all aspects of the job but gain particular satisfaction from helping bereaved relatives seek their floral tributes, implementing their wishes and hopefully exceeding their expectations.
I am married with two daughters and two grandchildren. As a member of the United Reform Church where my husband is the minister one of my roles is to organise Church flowers, particular enjoyable on festivals such as Easter and Harvest. I love to bake (particularly with my granddaughter). I enjoy aerobics and spend much of my spare time fundraising for Francis House Children's Hospice.
---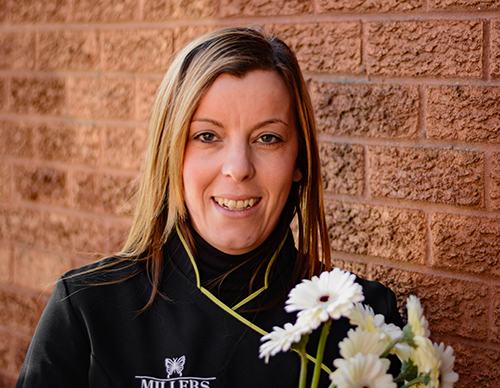 Dawn Martin
Hello my name is Dawn Martin. I left school at 15 and started work at Miller's Florist straight away following work experience in the shop at school. I started on the YTS program that led to me being taken on full time. During the first two years I was working four days with one day at college on a day release basis. I eventually qualified with my City & Guilds levels 1, 2 and 3.
I have worked at Miller's Florist ever since as a senior florist and enjoy and specialise in all aspects of wedding work and events. I like to think I get on with most people and enjoy dealing with the requests and challenges wedding planning presents.
Just recently I took maternity leave to have my lovely daughter Layla-Mae who is now 11 months old. I enjoy meals out and socialising with friends and family (don't get out much anymore since having my little bundle of fun!
---