Millers on the Move
Some exciting news to share with you lovely bunch – we have moved! After an incredible 40 years at our flower shop in the town centre of Oldham, it was time for Millers Floral Design to have a little change of scenery. But don't worry, we have only moved down the road to nearby Royton and our expert team will still be providing the same amazing service and flowers to all our loyal customers.
Millers Floral Design new location
Our new flower studio is nested in the grounds of our family farm in Royton - we are over the moon to be here and embracing our roots! The past few months we have been hard at work with diggers and builders, crafting a custom made cabin built to suit our needs and home all our fresh flowers and plants. This gives us a beautiful space to create floral designs, area to relax and chat with customers over a coffee, and be inspired by our beautiful rustic countryside setting.
You can find us at:
Millers Floral Design
Low Crompton Farm
Low Crompton Road
Royton
Oldham
OL2 6YP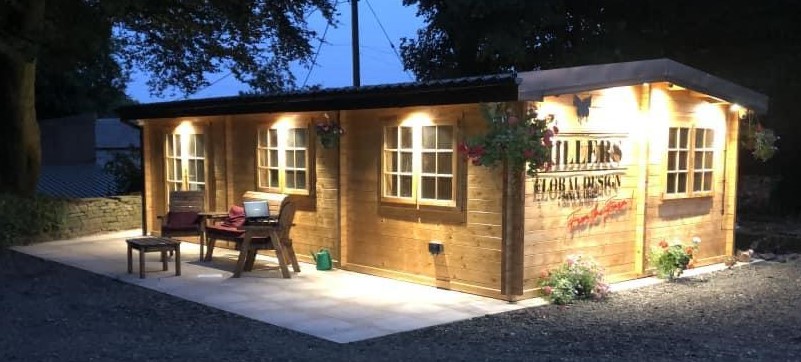 Sneak peek of our fabulous flower studio at night!
Studio open hours
The Millers Floral Design team are here at our new studio 6 days a week to help with all your flower needs! Our studio open hours are Monday to Friday 8.30am – 5pm, and 8.30- 3pm on Saturdays.
How to order from Millers Floral Design
Millers Floral Design still offer the same fabulous flower & gift services that we always have from our new studio location. This includes luxury bouquets and unique gifts, bespoke wedding and event flowers or funeral flowers to say farewell. Our same day delivery service for flowers and gifts is available - we deliver to Oldham, Royton, Manchester & surrounding local villages.
We want it to be super easy for you to order from Millers Floral Design, so there are 3 ways you can order:
Browse and order online
Give our expert team a call on 0161 633 5842 or email us
Pop by our flower studio in Royton
Barbara and the Millers Floral Design team look forward to many more happy years ahead creating stylish flowers, and as your local florist offering friendly service and expert guidance to you!