The best birthday flowers and gifts to send this September
September is a super busy month for birthdays, with celebrities Hugh Grant, Beyonce, Idris Elba, Serena Williams and Prince Harry all born under the Virgo star sign! Looking for the perfect gift inspiration for a September birthday? We have tons of ideas for birthday flowers and gifts you can send, with that thoughtful and personal touch to make the celebration even more special - they will even go down a treat with the birthday celebs if you choose to send to them too!
As your local florist, Millers Floral Design offer same day delivery to Oldham, Royton, Manchester and surrounding areas 6 days a week. You can order easily online from our birthday bouquets & gifts, or pop your head in to say hi to the Millers Floral Design team and browse our latest selection of seasonal flowers, cool plants and gifts. You can find us at our new flower studio nestled on Low Crompton Farm, Royton.
Read on for our favourite flowers & gifts to send this September
Bespoke Birthday Bouquet
Nothing quite beats a beautiful bouquet of your favourite flowers delivered by your local florist on your birthday! And September is a great month for seasonal birthday blooms - our flower studio near Oldham is full of enchanting hydrangeas, elegant garden roses and tropical orchids which look simply stunning in a birthday bouquet.
Here at Millers Floral Design every bespoke floral gift we create has that special feel; fresh flowers, lush foliage, stylishly wrapped and hand written message card. Simply order online our Millers Own Choice Bespoke Bouquet or call the team on 0161 633 5842 - let us know if the birthday person has a favourite flower or colour, and leave the rest to our expert florists.
Did you know? The birth flower of September is the Aster – a gorgeous star shaped bloom available in shades of lilac, pink, blue or white.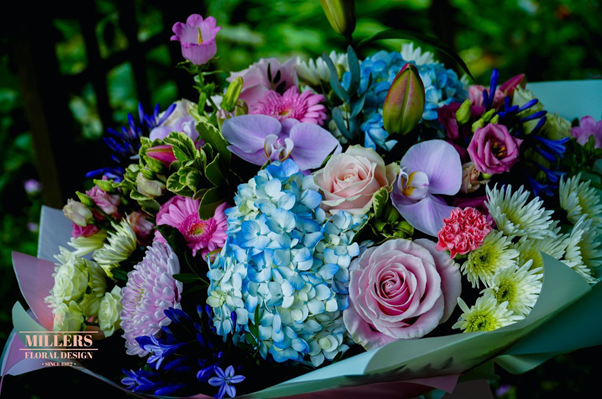 Gift for Gin Lovers
Hands up if you love Gin? Yup thought so! One of the most popular gifts to send to celebrate a birthday, Millers Floral Gin is a unique present for all the Gin lovers out there.
We are so proud of our Millers Floral Gin; distilled in the heart of the English countryside, using the finest ingredients and techniques to create a premium gin. We blend carefully selected botanicals which are lovingly distilled in a copper alembic named Velocity, with notes of elderflower, juniper, lemongrass, sweet orange and heather which creates a really smooth, luxurious gin!
Styling tip: Once the birthday celebrations are over and the last drop of gin has been drunk, our gin bottles are so pretty they make fab flower vases. Check out this from one of our local customers, making the most of her gin bottles with a gorgeous floral display at home!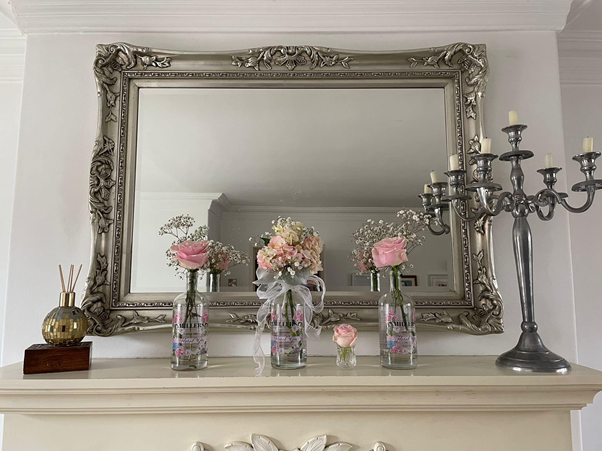 Perfect Plants
For a long lasting botanical gift, house plants are the perfect birthday gift! One of the hottest trends for 2021 and great for adding tropical vibes to the home, you can't go wrong with a funky fern or giant monstera deliciosa. This September our studio has a gorgeous selection of popular houseplants for you to get your hands on, or call to order for a special birthday delivery!
Cool fact: Virgo is an Earth star sign, so September born people are more connected to nature - making botanical plants a great present.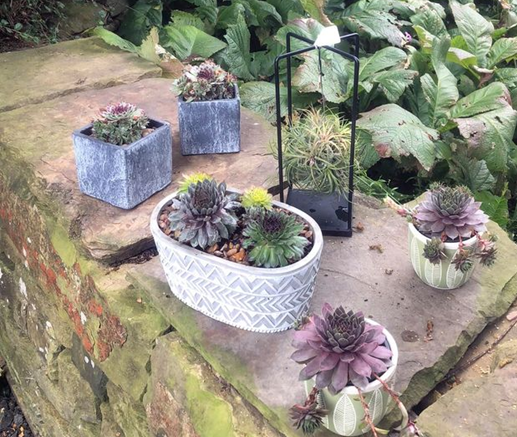 Millers Gift Voucher
Can't decide what to buy? We know making the decision can be tough so why not treat the birthday person to a gift voucher to redeem at their local Oldham florist - Millers Floral Design! Our popular gift vouchers can be made up to a value of your choice, and we can either package and post the voucher directly to the recipient for their birthday or you can pop by our flower studio on Low Crompton farm to pick up the gift voucher.